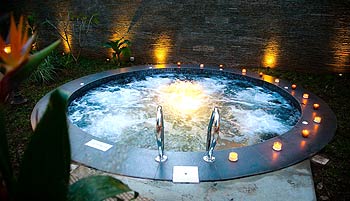 Temperature controlled Jacuzzi :
It really doesn't matter what time of day it is, our specially heated and temperature controlled Jacuzzi is all yours to enjoy. Wind down at the end of a fun-filled day, or simply de-stress with the perfect form of hydrotherapy. Let the gentle waterfalls and tailored pressure jets ease every knot, and soothe every muscle in your body.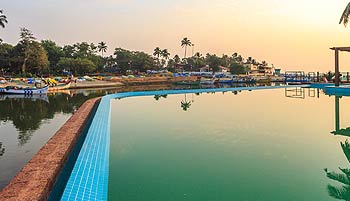 Infinity pool :
Lounge in or around our specially designed Acron Hotel infinity pool – the choice is yours. If you need to be refreshed, have your food and beverages served at your lounger, all you need to do is wave a hand. Spy a variety of birds from kingfishers to brahmini Goa kites as they swoop in for a meal from the river, or if you're feeling adventurous, cast a line and be patient. With any luck, you may just catch a cat-fish or a rock cod which our Fortune chefs will be more than happy to cook for you however you want. Appointed life guards are on duty to look after the kids as they frolic in the kiddie pool.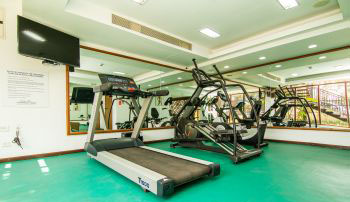 Gym :
Whether you're seeking to stay in shape on your vacation or you just want to burn off some steam, The Waterfront Gym has something for you. Located off the main entrance to the Lobby, the Waterfront fitness center offers a variety of exercise machines and free weights suiting all your cardio and strength training needs!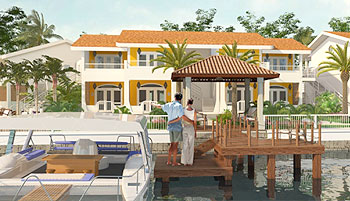 River Deck & Jetty :
The Baga River is an extension of the Acron Waterfront Resort, and your gateway to a world of water sport activities. Step off the jetty and into a speedboat to go on a fishing trip, or enjoy a leisurely cruise through the backwaters. If you're a fishing enthusiast, the resort has the option of line fishing, deep fishing, and net fishing available. Boats are also available for hire, if you want to get your adrenaline pumping by parasailing, hang-gliding, or jet skiing. Our Fortune Resort Associates are on hand to help you plan your fun activities all over Goa, so feel free to ask. Since water-sport activities are outsourced, some terms and conditions may apply.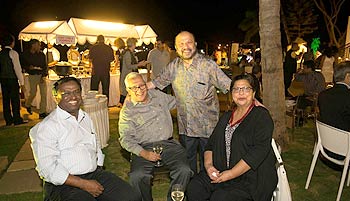 Celebrations :
Make your special moments memorable by hosting your birthday, wedding, or other celebrations with us. With the entire Acron Waterfront Resort property at your disposal, you can have the perfect sunset party by the river or overlooking the sea. Together with the dedicated support of our Fortune Hotels events team in Goa, we can help create a celebration limited only by your imagination.
Other Salient AMENITIES :
Laundry service :

Ask your Front Desk for assistance in having your laundry taken care off while you're enjoying your holiday.

Currency exchange :

No matter where you've come from, we can help you exchange your local currency without you leaving your room.

Complimentary Beach on Demand Services:

Craving some sun and surf?.Hit the beach in no time with our complimentary Fixed point Shuttle services to and from Baga Beach. Available everyday between 10 am to 7pm .